60 Years of Schall – 16th Blechexpo International Trade Fair for Sheet Metal Working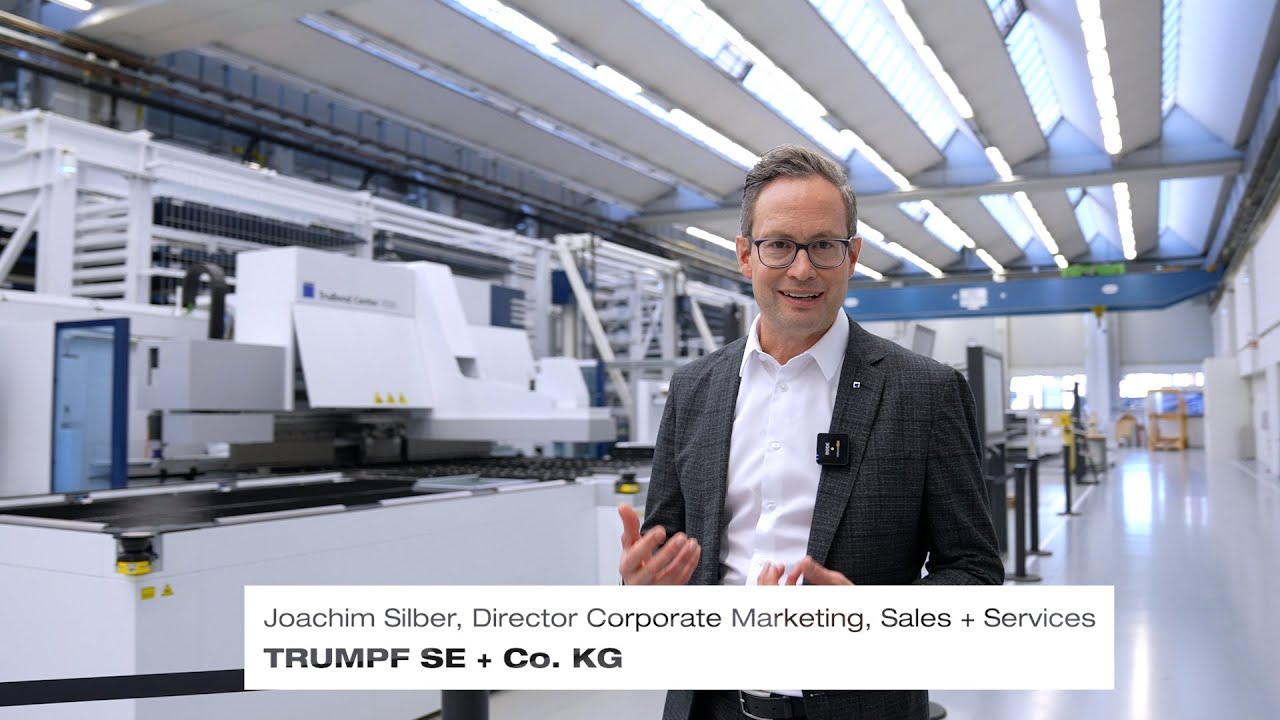 During Schall's anniversary year, we're visiting excellence partners associated with our international trade fairs. TRUMPF in Ditzingen, Germany, has opened its doors to us today and is providing us with exciting insights into the globally active high-tech company with more than 16,000 employees We're welcomed by Joachim Silber, Director of Corporate Marketing, Sales + Services.
As international technology leaders and longstanding Blechexpo exhibitors, TRUMPF has played a significant role in shaping Blechexpo's success story thanks to their active association with Schall and their valuable involvement in the trade fair advisory board. Blechexpo is held once every two years in Stuttgart along with its companion trade fair Schweisstec. Today, Blechexpo presents worldwide offerings for products and solutions for the industrial processing of sheet metal, pipe and profiles. TRUMPF's portfolio covers practically the entire spectrum in this regard. As technology leaders in the field of machine tools and lasers for industrial production, TRUMPF's products have an impact in virtually all spheres of life. From delicate hands in wristwatches to turbine blades in aircraft – there's hardly a component in the manufacturing industry that hasn't been processed with the help of a machine, a laser, a power tool or a generator from the company in Ditzingen. TRUMPF works in partnership with manufacturers in numerous cutting-edge sectors, making special, innovative manufacturing processes possible in the first place. And thus with software and services from a single source, customised turnkey packages are created for industry customers.
TRUMPF showcases its comprehensive range of products and services at Blechexpo, including the latest technical developments and forward-looking solutions. TRUMPF also presented a fascinating preview of the opportunities opened up by the smart factory for the first time at Blechexpo by programming a production process in Stuttgart and running it directly on a machine located in Chicago. Blechexpo visitors were able to witness order processing live in the USA on monitor screens.
TRUMPF's targeted mission is to further develop and digitally network production technology, making it even more economical, precise and future-proof. Special focus is placed on the objective of making production more efficient – together with its upstream and downstream processes. Consequently, TRUMPF is working towards the industrial world of the future, to which contributions are also being made by software solutions which pave the way to the smart factory, as well as industrial electronics that facilitate high-tech processes. The issues of energy and sustainability also play an important role in these processes.
Within the framework of their cooperative partnership, TRUMPF and Schall are united by their enthusiasm for putting visionary ideas into practice, for advancing future technologies and for always staying a step ahead of technical progress. Both companies pursue cross-industry approaches and think in broader contexts. For example, the presentation of complete process sequences also plays an important role in the conceptualisation of Schall's trade fairs. TRUMPF and Schall are also united by their clear focus on the needs of their customers. Both companies strive towards process optimisation, while at the same time enhancing quality for the customer. This is exemplified at TRUMPF by the EdgeLine Bevel process which automatically prepares components for welding. It eliminates the need for a separate production step. And post-welding results satisfy the most stringent requirements.
The corporate culture cultivated under the umbrella of the global player from Ditzingen is undoubtedly unique as well. The family-run company with a history dating back roughly 100 years regards its employees as an essential key to its success. This sense of appreciation is reflected in a broad range of offerings and programmes for the advancement and well-being of company employees.
At TRUMPF too, preparations for Blechexpo 2023 are already running at full bore, so that customers and business partners, as well as Schall trade fair promoters, can already look forward to experiencing the latest technologies and ground-breaking advances at TRUMPF's trade fair booth.
This is precisely why we don't slack off on the tempo and do what we've always been passionate about: making trade fairs for markets!
People will connect at Blechexpo 2023!