Trade fair highlight
06. May 2021
Wire mesh belt blast machines RDGE - excellent for all-round and continuous blasting treatment
1 / 4
The RDGE 1000-4 is excellent for blasting treatment of flat as well as voluminous components
2 / 4
A highly wear-resistant wire mesh belt, with tension adjustment, provides the part transport
3 / 4
The high performance Gamma turbines equipped with curved throwing blades in "Y" design
4 / 4

❮
❯
Wire mesh belt blast machines are the ideal solution for the all-around continuous blast cleaning of flat, large and complex shaped work pieces. The highly flexible machine concept guarantees a high operational efficiency for a wide spectrum of shot blasting applications, especially for deburring, blast cleaning, surface roughening, de-scaling and de-rusting. The position of the high performance turbines, optimally placed at a vertical as well as at a horizontal angle on the machine housing, ensures that complex surface areas like pockets and undercuts are completely reached by the blast stream. The work pieces are transported through the blast machine on an endless, highly wear resistant wire mesh belt. With this arrangement long components (plates and differently designed profiles) can be processed. But the wire mesh transport system also allows to efficiently shot blast components, which may be too small for a roller conveyor machine. These include sand and die castings, profiled and flame cut and car body parts as well as machined work pieces. Placing several small work pieces side by side on the wire mesh belt can significantly increase the machine throughput. Standard transport speeds vary between 0.6 – 6 m/min (2 – 20 ft/min). Rösler offers solutions for higher transport speeds and special customer requirements.
With machine widths from 600 to 1,600 mm (24 – 63") the RDGE wire mesh machines can practically handle any work piece size and throughput with minimum space requirements.
The extensions of the wire mesh belt transport system at the inlet and outlet side facilitate the integration of automated handling systems or robotic loading/unloading units. RDGE machines can be easily integrated into exiting or brand new manufacturing lines.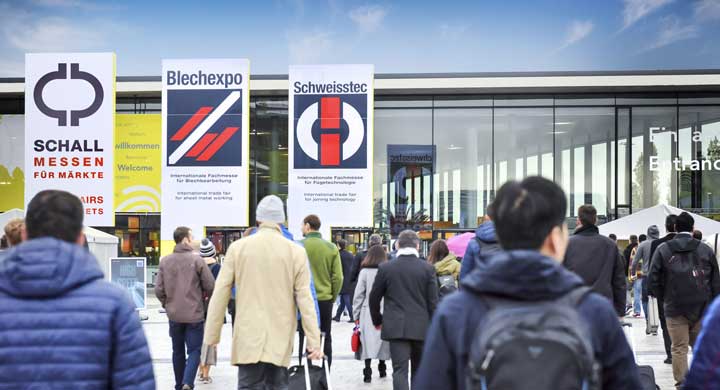 Visit Rösler Oberflächentechnik GmbH on the Blechexpo 2023
---